A FINANCIAL COACH IS LIKE A PERSONAL TRAINER FOR YOUR FINANCES.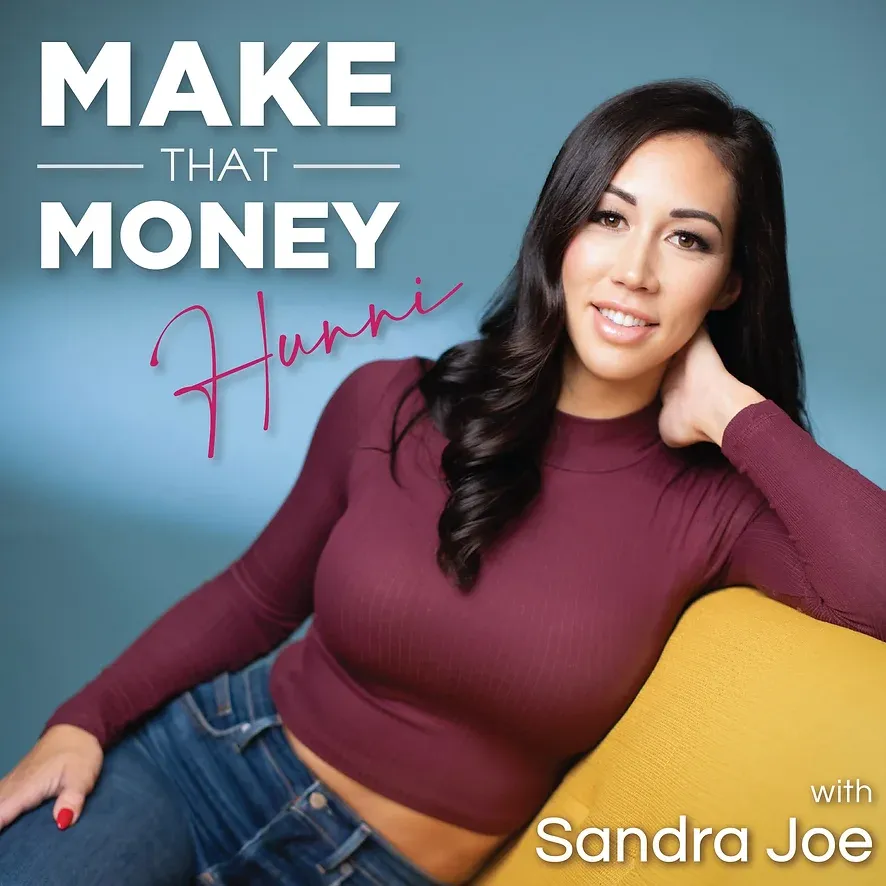 PODCAST
MAKE THAT MONEY HUNNI
This podcast is for the new generation of investors, entrepreneurs and women in business. Be sure to tune in weekly to listen to industry leaders and solo episodes about creative ways to build your wealth, improve your money mindset and expand & scale your business.
Get ready to get honest with yourself and learn the tools and tricks that these business leaders have learned throughout their journey, as they share their knowledge and experience about entering the business world. Whether you're an entrepreneur, a salaried employee or getting back into the workforce, this podcast will provide you with the confidence you require, to make all of your personal and professional dreams a reality.
LISTEN HERE
MEET SANDRA JOE
After formerly working as a Certified Financial Planner® CFP, I realized that there was a need for the younger generation to learn money management and financial literacy in order to build wealth over time. I like to call these the years where you are "in the trenches". I love to work with ambitious people who are juggling careers, young families, new businesses, buying their first property and looking at ways to maximize their income, get out of debt faster and create more time freedom. But if there's one goal that ALL of my clients have used, when asked about what they want to achieve, it's Financial Security. 
I don't say that because it's trending or the current buzzwords… but because that was me!  
Thus, Sandra Joe Financial Coaching was born! I have created programs to meet everyone's budget so there's no excuses for not getting started.
Investing in yourself today will improve your knowledge for the rest of your life. It's called the Compounding Effect, and I'm here to help.
READ MY STORY
Her course exceeded my expectations with sessions being very tailored to the questions I had about developing my business as a physiotherapist.
I highly recommend this course to anyone who is either intimidated with finances, want to gain a better understanding and feel more confident with their finances, and making a plan to achieve their personal and financial goals."
- Jessica, Vancouver
I'm so grateful to have met Sandra. Not only is she a phenomenal financial coach, but she has really helped me make the connection between my limiting beliefs and money stories. 
She has great energy, is easy to talk to, and is very comforting; these qualities are vital, as talking about money has been overwhelming and difficult for me, especially since leaving corporate and becoming a business owner. Having not only her practical knowledge coupled with her supportive coaching has been wonderful.
- Jennifer, New York
I knew I needed to invest in myself and my business to get me where I want to go. I now have a clear plan on how many clients I need to have a monthly basis to make the salary I deserve. I also have learned valuable lessons around where my money is going every month and how much I need to have that "cushion". I highly recommend Sandra and have already referred people to her!
- Rhonda, Dallas
My sister referred me to Sandra and I'm so thankful she did.  I was ICU RN working big money COVID contracts. I was recently engaged and started a new trucking business. Sandra has been so helpful in showing me how to financially manage my trucking business and transition it to a family business now that I'm married.  She's so knowledgeable in helping us forecast and plan for business expenses and profits.  My only regret is that I didn't utilize her services earlier.  I would have been further along in my financial journey.  My husband and I have different money values/spending habits so she's been super helpful in getting us on the same page.  Let me tell you….JUST START WHERE YOU ARE AND SHE WILL GIVE YOU THE DIRECTION YOU NEED! Thanks so much, Sandra!
- Arynia & Tony, Dallas
Where do I start?! Our sessions got personal quick and I really like that because I don't care for fluff. I came in expecting money, mindself and business talk, but you surprised me in a really pleasant way with activities that helped me dive into more of the meaty heart and relational matters of money. I appreciate your transparency, expertise and genuine care to see me grow and succeed in my business and life! We have a few more sessions to go and I look forward to see what we uncover together!
I like the structure in which we meet and the different activities you've provided. The homework aspect of our sessions helps me a lot in diving deeper into processing what I want in my business and life altogether. You're an attentive listener and can feel that you genuinely care about seeing me succeed, and I take comfort in our shared similarities. Also, hearing about your business and the process in which you got to where you are and continue to grow and build is inspiring and motivates me.
- Mariam, Vancouver
As a couple who have lived in multiple different countries (Australia, Hong Kong & Canada) we wanted to learn about how to better manage, grow and invest our money whilst understanding the tax implications. Prior to enrolling in the coaching, we had some basic knowledge but we wanted to enhance our financial literacy.  Sandra is such a relatable person and made us feel so comfortable diving into a world that was very unknown to us. Sandra also gave us a framework with which to visualise our goals, and this has already helped us in making decisions in how we plan our future holidays and what we can and cannot afford. We are now able to put the skills and knowledge that Sandra has passed onto us into practice when we start our family. To then also pass down this new-found knowledge to our children so that they begin their money journey in a better place than we did.
- Maddy & Scott, Melbourne